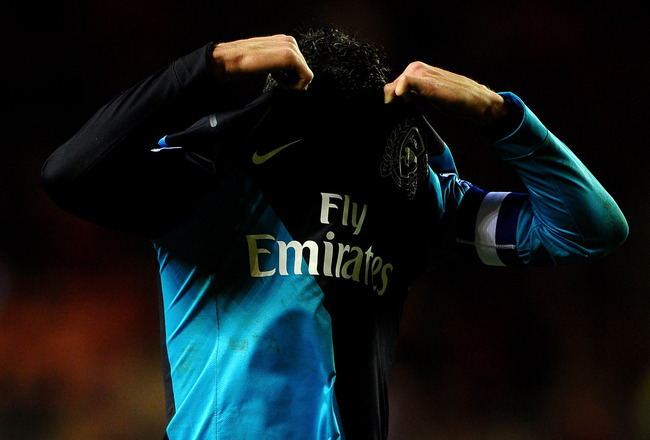 Will he leave?
Long time back I had come across a novel of a young man who goes through a complete change over to avenge his brother's murder. Some kickass master he goes to tells him, "In order for you to rebuild, you have to break down to the last piece". I am hoping Arsene isn't following the same path to rebuild the team, as we know that in the professional world of football it is simply not acceptable.
20 minutes in the first half and it was a scene from "
The Happening
", players falling down like something mysterious in the air had struck them and just couldn't get on with it. In my last post I had mentioned that I had a crazy idea that Coquelin might start, and for some reason I was happy to see him there, but its still not clear to me that what was the problem with Gibbs that Arsene decided against starting him. Now,
I
know what the problem is with him, I just wasn't sure that it was visible to Arsene, for him, Gibbs is ready to take on the world. If any injury was there to him, it might have been right before the start of the match, or I might have missed the news. Even so, it was a very good option to pick him, but the poor guy was our first casualty of the match just when he was looking to create something. He looks a better left back to me than Gibbs is!
With Coquelin out, it was TV back to the place where it frustrates him the most, although he kept Larsson quiet for a large period of time, but that meant our defensive partnership was down to Djourou+Squillaci. Even the bluntest of attacks would have licked their lips at such a mouth watering prospect. As soon as Squillaci was brought on, we were pushed back and never able to move forward enough as though we had a sonic shield in front of us. Just what Arsene was thinking when he signed Squillaci is beyond my imagination. Before the match, Djourou expressed his satisfaction at being back to his familiar role and
assured
that he'll put his best on display. I know he is playing in that position after a long time and might need time to settle down again, but it is simply not acceptable, and I mean acceptable in terms of the situation we are in currently. We just cannot afford to give a person time to settle down at a position and that too a crucial one. Coquelin has been all over the pitch and it doesn't take him more than a poof to settle down there.
I don't know quite what went wrong last evening, but to say the least, we were a bit unlucky. The goals came of unfortunate deflections, I don't blame Squillaci for that, and surely not Ox for the second one, out of all the players that went ahead before the counter attack began, he was the one who ran 70 yards back to defend and if he wasn't there then some one else might have gobbled up the goal. So not his fault at all, if anything, he might have been the one player who looked to create anything. Also maybe Rosicky who came on for Ramsey and immediately you could see the difference, his off the ball runs, the way he carried the ball forward not succumbing to any body climbing by the opposition.
I believe Howard Webb along with the referees of the world have decided against giving any penalties in Arsenal's favor, or maybe even simple visible fouls. There were 3 or 4 instances when Gardner was looking to play rugby(could easily have been a manchu player), no attempt to play the ball, he just kept handling the players. Not to mention, the Cattermoles, the Colbacks. How much more dirty does a player have to play before the referee gave it as a foul. Had it been manchu in place of us, the players would have trekked the referee and ganged up on him to get the culprit red carded. There was one instance, during a free kick, just outside Sunderland's box, Michael Turner just wrapped his arms around RVP without any intentions of defending, and inside the box too. If Webb wasn't able to see that, shouldn't the assistant have seen this being clearly in line? Being an assistant, can't one expect him to
assist
the referee??
For all the bad that happened against us, it was clear that there is lack of creativity and Ramsey clearly isn't suited for the role to play just behind RVP. Song did quite well towards the end, being asked to play as a defender in Squillaci's place who went off with an injury. He looked to create something towards the end. We had some thin chances and at such times and at such level, you expect them to be taken. But how much more can RVP do, we can't expect him to score 3 goals every match? He can't do it alone, where is the support? Gervinho looked a shadow of the player that was before the ACN. Maybe just tired legs. But the bottom line is there is clearly something missing in this team, its not the mental strength or the physique or anything else. The midfield clearly lacks the creativity. From having the best midfield in the PL last year, we have gone to big nobody's! The saddest part is when we had the chance to make things right, nothing was done. There is every chance he might leave at the end of the season.
Do we blame Arsene for this? Yes of course, he is in charge of the team, he might well have been the owner, CEO, MD, board, all-in-one of the club. He has built this team, he decides who is bought and who is sold. So its only imminent that he is blamed. Some are suggesting that he should leave. If you ask me, I wouldn't even think about giving him away, since he has brought so much to this club. Maybe the lack of finances has hampered the chances of big money signings. But some of his signings surely are questionable. Squillaci, Silvestre and don't even get me started on Park. He isn't there on the bench for a FA cup match? I don't think losing Wenger is a good idea. Maybe he needs to have a more concentrated role, there has to be some deregulation at the club. Specialized roles should and
must
have specialized personnel. It's not a family business, in fact its a
billionaire club
now! I wouldn't brag about me being an expert on economic matters, but that is a huge sum.
I don't know how much rock bottom we have to hit, before the only way for us is up, but surely this has to be reverted some where. We have Rottenham next Sunday at home and the team can't afford to lose their fans faith by losing the match at home. Rottenham have been on a very good run and excellent form but they are still Rottenham. After that there are some very crucial matches for us to stay in top four or at least the fourth. Milan is a slim chance of us progressing in the Champions League. If it isn't for that, Wenger might well be
Robert Langdon
in search of the grail, he
says
,
It is too early to say where it leaves us and what we will do. Let's focus on the next game in the championship and fight, even if there is a small possibility, in the Champions League. We have a big game next Saturday, we lost three players today and we are starting to get very short.
We know that speech very well. All eyes on next Saturday then, not much to say around here!
-
Heart warming rumors!
-
Image courtesy: Bleacher Report